Votre partenaire privilégié durant votre séjour au Japon
Produits
Business WiFi

Premium WiFi

Plébiscité par plus de 92% de nos utilisateurs

Carte SIM

Price

2.12€

/jour

Pour 28 jours de location

2.26€

/jour

Pour 28 jours de location

21€

/30 jours

Data Usage

Données vraiment illimitées

Données vraiment illimitées

500MB/jour

Max Speed

95 Mbps

187 Mbps

150 Mbps

Pas de limite de vitesse

Pas de limite de vitesse

Pas de limite de vitesse

18.5 heures d'autonomie
Batterie gratuite incluse
20 heures d'autonomie
Batterie gratuite incluse

Pas de batterie

Jusqu'à 5 appareils connectés

Jusqu'à 10 appareils connectés

1 appareil

Area

99% dans tout le Japon

100% dans tout le Japon

100% dans tout le Japon

Perfect for Internet on the go:
Google Map, Video Messenger, etc.

Parfait pour streaming, musique, jeux, etc.

Parfait pour voyager l'esprit tranquille: accès internet sans appareil supplémentaire

Plus d'infos

Détails

Plus d'infos

Détails

Plus d'infos

Détails
6 months
Replacement warranty for faulty equipment
Monthly payment available
Choose
One Year
Replacement warranty for faulty equipment
Monthly payment available
Choose
Monthly
Payments
Available
Two Years
Replacement warranty for faulty equipment
Monthly payment available
Choose
Pocket WiFi/Carte SIM
Wifi de Poche
A partir de 2.12€ par jour
Pour 28 jours de location
Qu'inclus votre commande?
Votre Pocket wifi comprend les éléments suivants, sans frais supplémentaires.
- Manuel d'utilisation
- Routeur wifi de poche
- Batterie externe
- Cable USB et adapteur AC

Carte SIM
Nous vendons également des cartes SIM prépayées
Notre carte SIM peut être facilement découpée à la main et s'adapte à votre appareil.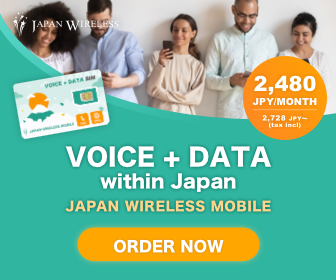 En option avec le routeur wifi
Traducteur de poche
Adopted by Japanese
government agencies
En option avec le routeur wifi
72 Langues prises en charge, y compris le japonais
Léger et facile d'utilisation
Ne soyez jamais "Lost in Translation"!
Peut être sélectionné en tant qu'option directement depuis le formulaire de commande
Comment commander
Veuillez réserver votre wifi de poche avant votre venue au Japon. Effectuez votre paiement pour confirmer votre commande.
Votre box de poche devrait être livrée avant le début effectif de la location.
Après une mise en route facile, profitez d'internet illimité au Japon!
4
Retourner la box de poche
Votre commande contient une enveloppe de retour pré-affranchie. Emballez le tout dans l'enveloppe, et déposez-la dans une boîte aux lettres.
Ce qui fait notre différence
350,000 clients satisfaits
Le moyen le plus simple de se connecter, n'importe où et à tout moment!
Depuis 2012, nous avons offert nos services de location de Pocket wifi au Japon à plus de 800.000 visiteurs du monde entier.
Notre wifi de poche sera à coup sûr un partenaire indispensable durant votre voyage.
Données vraiment illimitées
Vous pouvez utiliser des services de streaming vidéo sans aucun soucis.
Batterie supplémentaire
Nous offrons une batterie de rechange GRATUITEMENT. Plus de soucis de durée d'utilisation!
Livraison en une journée!
Nous acceptons les commandes de dernière minute, et proposons une livraison en 24 heures.
FAQ
FAQ
Q

Combien de temps dure la batterie?

En cas d'utilisation continue, notre Wifi de poche a une autonomie d'environ 4 à 8 heures. Vous pouvez prolonger la durée de vie en activant le mode de désactivation automatique. Toute location comprend également une batterie supplémentaire!

Q

Je suis déjà au Japon. Puis-je quand même placer ma commande?

Oui, placez simplement votre commande en ligne en indiquant la période de location souhaitée. (Le délai d'expédition peut changer selon le lieu de livraison) Complétez ensuite votre commande. En cas de livraison à votre hôtel, assurez-vous d'entrer votre numéro de chambre ou numéro de réservation. Cela permettra de gagner du temps lors de l'envoi. Livraison à un hébergement Airbnb n'est pas possible. Veuillez nous contacter pour trouver la solution la plus simple.

Q

Mon heure ou lieu d'arrivé a changé, que puis-je faire?

Contactez nous immédiatement. Tout changement avant l'envoi de votre commande peut être effectué sans frais. However if you contact us after the package is already shipped, we can resend it for an additional 1,100 yen.

Q

J'ai dû annuler mon voyage. Que dois-je faire?

Contactez nous immédiatement. Pour toute annulation avant l'expédition de votre wifi de poche, vous recevrez un remboursement complet. Pour toute annulation après l'expédition de votre wifi de poche, des frais d'annulation de 1.000 JPY seront facturés.

Q

Puis-je prolonger ma durée de location?

Oui, très facilement! Contactez-nous avec le nombre de jours que vous souhaitez prolonger. Nous vous enverrons ensuite un formulaire de paiement. Les frais d'extension s'élèvent à 350 JPY par jour, et les frais de service à 40 yens. Pas besoin de renvoyer et d'échanger votre / vos appareil(s) pour une extension.

Q

Je veux profiter de ma connexion internet jusqu'à la toute dernière minute. Puis-je renvoyer mon appareil depuis l'aéroport?

Oui, veuillez simplement déposer l'enveloppe de retour pré-affranchie dans une boîte aux lettres à l'aéroport. Attention de bien le faire avant de passer l'immigration!

Q

J'ai oublié de renvoyer mon Wifi de poche et je l'ai toujours avec moi après être parti du Japon, que dois-je faire?

Veuillez nous contacter immédiatement, puis renvoyer le tout à l'adresse ci-dessous par ESM, Fedex ou DHL. Nous vous enverrons une facture pour les jours de retard. Please make sure that you can drop it by the time, or extend your rental date in advance.

Q

Je visite aussi la Corée du Sud et Taiwan. Est-ce que je peux utiliser votre Wifi de poche dans d'autres pays asiatiques?

Malheureusement non, notre Wifi de poche ne peut être utilisé qu'au Japon. Our items are all for domestic use only. Please refrain from bringing our product/s outside of Japan with you.
Contactez-nous
Pour toute question, n'hésitez pas à nous contacter!