1Order and Pay
Order and pay online directly from your PC or smartphone.
Major credit cards or Paypal are available for payment. You will receive an order confirmation email after it is completed.
Contact us when your payment processing needs support!
WE SUPPORT LAST MINUTE ORDERS
Select this option when the time between your order/payment and the pick-up is less than 48 hours.
Rental term

How do I count my rental days?
Our rental days counting is based on the calendar days.
Your rental starts from the 0:00 of your pick-up date regardless of the actual pick-up time or device activation. If your pick-up is on the January 1st at 17:00 and return-package dropped-off (drop into a postbox) time is on the January 5th at 13:00, this rental term is counted as 5 days.

Prep time for dropping the return package is offered until the 12:00 of next day of your rental end date. With above-quoted rental model, keep using your rental items until the 12:00 of the January 6th is available.
When is the fastest available date/time of pick-up if I order now?
Please contact us with your wished pick-up location.
Within the Tokyo 23 wards, optional Express Service may be available for deliveries that needs to be made in less than 24 hours.
2 Delivery
Your ordered item should arrive to your designated destination prior to your rental start date.
(Except for the last minute ordering cases and unexpected conditions result traffic/delivery delay.)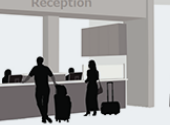 Hotels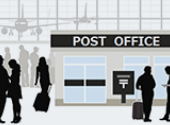 Airport post offices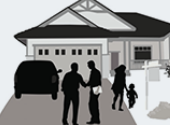 Private residences
"in Japan"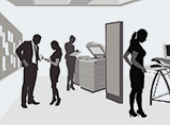 Business/School Office
Hotels
Ask for your package/s at the front desk when you check-in.
ATTENTION
Specify the name, code, tour name, etc. used to book your room at the hotel. Most hotels simply reject to receive advanced delivery when your booking name/code is not on their booking list.
For example: If the person who placed the order is Mr. John Smith, and his hotel room is booked under Ms. Cathy Smith, the person picking-up the order is John Smith, while the booking name should be Cathy Smith.
Airport post offices / Counters
Notice of package tracking number will be sent when your package is shipped out.
Show your tracking number with your passport to receive your package at the specified airport post office/counter during its business hours.
No need to understand any Japanese at all!
Check the business days/hours and location map below.
Location Map
▶ AIRPORT OPERATION DAYS/HOURS
Narita (NRT)
Terminal 1
Weekday

*



Weekends/holidays

*

8:30am-19:00pm

8:30am-18:00pm
Narita (NRT)
Terminal 2
Weekday

*



Weekends/holidays

*

8:30am-19:00pm

8:30am-18:00pm
Narita(NRT)
JAL ABC Counter Terminal 1
Everyday
7:00am-21:00pm
Narita(NRT)
JAL ABC Counter Terminal 2
Everyday
7:00am-21:00pm
Haneda (HND)
International Terminal
Everyday

*

6:30am-21:00pm
Kansai International Airport
Arrival Floor(1F)【North】
Everyday
7:00am~21:00pm
Chubu Centrair (NGO)
Japan Post's Centrair branch
MON to FRI

*

9:00am-17:00pm
Fukuoka Airport (FUK)
International Terminal
Everyday
9:00am-20:00pm
New Chitose (CTI)
–
Everyday

9:00am-17:00pm
*EXCEPT YEAR-END AND NEW YEAR HOLIDAYS
ATTENTION
If you are not sure about your arrival airport/terminal, contact us with your flight number.
Private residences "in Japan" (International Shipping not available.)
Your package should be delivered before your arrival. It will be dropped into the residence's letterbox. No signature is needed. Thank you for reconfirming the letterbox can hold 25cm x 34cm package SAFELY.
ATTENTION
Shipping To Airbnb Rooms is NOT AVAILABLE.
When you are staying at a Airbnb residence or a guesthouse with no front desk, the best alternative pick-up location is the POST OFFICE.
To know the nearest post office, contact us with your accommodation information and your pick-up date/time.
Business/School Office
Please specify, your company/school name, full address, business or school dept/section/unit name with the *contact person's full name and tel number.
(*Contact person here stands for someone who can receive your package in the attentioned office in advance to your arrival.)
ATTENTION
Your package may arrive one day prior to your arrival. Please be careful for the office's business days/hours if you are arriving on weekend/holiday or Monday.
For office pick-up orders, please also be careful of the business hours.
3Enjoy your trip
Easy steps to connect. Enjoy our Unlimited Internet during your stay in Japan.
Activate your pocket Wi-Fi router.
Power ON your Wi-Fi router unit. Get your device connected to your WiFi router.
Go to the "Settings" screen of your device.
Switch "Wi-Fi" ON.
Select your Wi-Fi router's SSID from the list.
Enter your Security key as a password.
Click/Tap "Connect".
Shazam! You're connected to internet.
Googling, navigation, whichever internet-based services you need is now available to you.
4Return by mail
Any postbox/post office in Japan is okay to mail your return package. No need to mail from the same location you picked up.
Pack all items into your return envelope and make it FLAT so that it can goes into a postbox sloat smoothly.
(This envelope is enclosed in your original package in postage-paid & self addressed conditions)
ATTENTION
IF YOU ARE MAILING FROM THE AIRPORT, make very sure to drop the return envelope before passing the security check gate.
After the security gate, no more postal service or postbox are available at all for security reason.
Click below for the international airport's postbox locations maps.
Post Boxes in Airport >
Lost your return envelope?
Return envelope is not covered by safety insurance.
Sending you a new envelope is available with JPY1,000 charge.
Contact us by email with your 3-days-ahead itinerary.
Purchasing a new envelope by yourself is possible at any post offices or Lawson convenience stores.
Please specify to purchase a "Letter-Pack Light" envelope.
( Let us know the tracking number of your new envelope in this case. )
Address to send your return package is as below
<Japanese>
東京都港区新橋6-14-5 SW新橋ビル6F
Japan Wirelessデリバリーセンター宛
(オーダー番号:Axxxxxx)
<English>
Japan Wireless Delivery Center
(Put your order # : Axxxxxx)
6th floor, SW Shimbashi Building, 6-14-5 Shimbashi, Minato-ku, Tokyo 105-0004